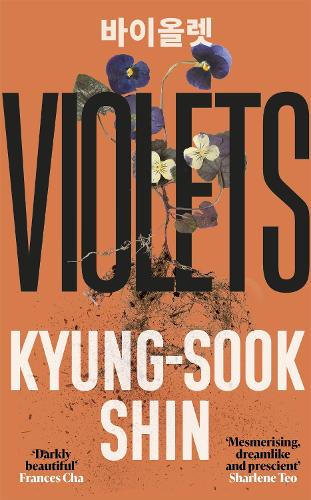 Violets
Kyung-Sook Shin

(author)
,
Anton Hur

(translator)
Hardback 
Published on: 14/04/2022
Synopsis
South Korea, 1970. San is a lonely child, ostracised from her community. She soon finds a friend in a girl called Namae, until one afternoon changes everything. Following a moment of intimacy in a minari field, Namae violently rejects San, setting her on a troubling path. We next meet San, aged twenty-two, when she happens upon a job at a flower shop in Seoul's bustling city centre. Over the course of one hazy, volatile summer, San is introduced to a curious cast of characters - the mute shop owner, a brash co-worker, kind farmers and aggressive customers - and fuelled by a quiet desperation to jump-start her life, she plunges headfirst into obsession with a passing magazine photographer. Throughout it all, San's moment with Namae continues to linger in the back of her mind. A story of thwarted desire, misogyny and erasure, Violets reveals the high stakes involved in one woman's desperate search for both autonomy and attachment in an unforgiving society. Translated by Anton Hur
Publisher:

Orion Publishing Co

ISBN:

9781474623544

Number of pages:

224

Weight: 340g
Dimensions:

220 x 144 x 24 mm

Beautifully told
Thank you to the publishers for this review copy, this is the first of Kyung-Sook Shin's novels I have read but it certainly lives up to her reputation. Th...
READ MORE


A treasured find - I can't stop crying
When I read, I very rarely feel anything. But Violets? It destroyed me. I felt a relation to San and also sadness for her. I cant get over it. Absolutely i...
READ MORE