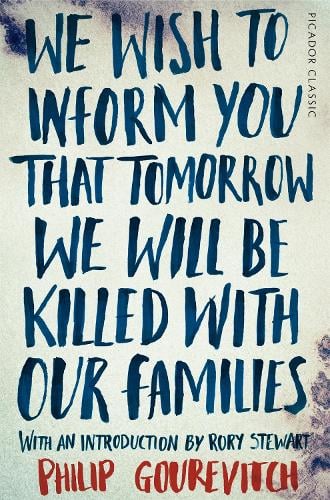 We Wish to Inform You That Tomorrow We Will Be Killed With Our Families
Philip Gourevitch

(author)
,
Rory Stewart

(author of introduction)
Paperback 
Published on: 12/02/2015
Synopsis
With an introduction by Rory Stewart Winner of the Guardian First Book award, a first-hand account one of the defining outrages of modern history. All at once, as it seemed, something we could have only imagined was upon us - and we could still only imagine it. This is what fascinates me most in existence: the peculiar necessity of imagining what is, in fact, real. In 1994, the Rwandan government orchestrated a campaign of extermination, in which everyone in the Hutu majority was called upon to murder everyone in the Tutsi minority. Close to a million people were slaughtered in a hundred days, and the rest of the world did nothing to stop it. A year later, Philip Gourevitch went to Rwanda to investigate the most unambiguous genocide since Hitler's war against the Jews. Hailed by the Guardian as one of the hundred greatest nonfiction books of all time, We Wish To Inform You That Tomorrow We Will Be Killed With Our Families is a first-hand account one of the defining outrages of modern history, an unforgettable anatomy of Rwanda's decimation. As riveting as it is moving, it is a profound reckoning with humanity's betrayal and its perseverance.
Publisher:

Pan Macmillan

ISBN:

9781447275268

Number of pages:

384

Weight: 264g
Dimensions:

198 x 130 x 24 mm

Read it and weep
Heart-rending, gut-wrenching but required reading for anyone trying to understand the genocide in Rwanda.