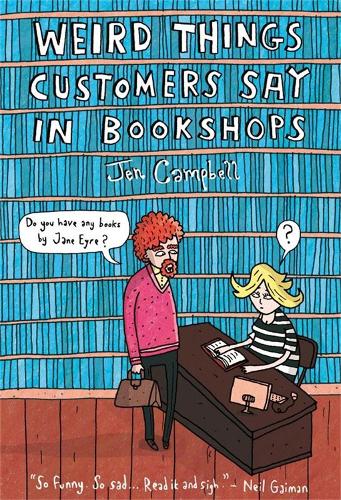 Weird Things Customers Say in Bookshops
Hardback 
Published on: 26/03/2012

Weird Things Customers Say in Bookshops
Found this book really amusing and some of the situations ring bells great read.


Revels in the retail
Nnng. Y'see, thing is, when I go shopping and I don't know what I'm looking for, I kind of rely on the shop assistants. Every time I buy shoes for instance...
READ MORE

Synopsis
'Can books conduct electricity?' 'My children are just climbing your bookshelves: that's ok... isn't it?' A John Cleese Twitter question ['What is your pet peeve?'], first sparked the "Weird Things Customers Say in Bookshops" blog, which grew over three years into one bookseller's collection of ridiculous conversations on the shop floor. From 'Did Beatrix Potter ever write a book about dinosaurs?' to the hunt for a paperback which could forecast the next year's weather; and from 'I've forgotten my glasses, please read me the first chapter' to 'Excuse me... is this book edible?' This full-length collection illustrated by the Brothers McLeod also includes top 'Weird Things' from bookshops around the world.
Publisher:

Little, Brown Book Group

ISBN:

9781780334837

Number of pages:

128

Weight: 140g
Dimensions:

202 x 138 x 18 mm



Very funny
I read this book in an afternoon, literally laughing out loud at some of the situations. Not many books lead me to actually giggle! Over the following few...
READ MORE


Say What??!
'Weird Things...' breaks the rules and does exactly what it says on the cover. It's a collection of funny and frightful things said in bookshops in the UK ...
READ MORE


Weird Things Customers Say in Bookshops


Weird Things Customers Say in Bookshops
This is an entertaining collection of quotes and questions that have been asked or directed at staff within bookstores in Edinburgh, London and elsewhere w...
READ MORE


An amusing collection of anecdotes
Weird Things Customers Say in Bookshops is a collection of witty anecdotes from two of the bookshops Jen has worked in, as well as anecdotes sent in by boo...
READ MORE


Hilarious!
This is quite possibly the funniest thing I've ever read. I bought this book after hearing the author talk about it on Radio 4's Open Book. A collection of...
READ MORE


Weird Things Customers Say in Bookshops