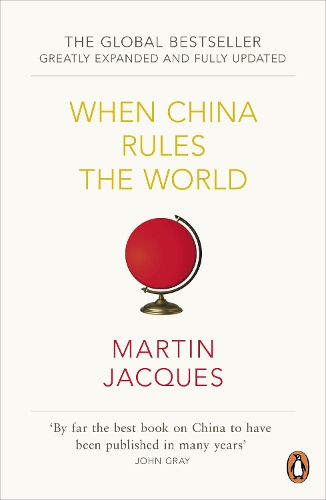 When China Rules The World: The Rise of the Middle Kingdom and the End of the Western World [Greatly updated and expanded]
Paperback 
Published on: 29/03/2012
Synopsis
China will replace the United States as the world's dominant power. In so doing, it will not become more western but the world will become more Chinese. Jacques argues that we cannot understand China in western terms but only through its own history and culture. To this end, he introduces a powerful set of ideas including China as a civilization-state, the tributary system, the Chinese idea of race, a very different concept of the state, and the principle of contested modernity. First published in 2009 to widespread critical acclaim - and controversy - 'When China Rules the World: The End of the Western World and the Rise of a New Global Order' has sold a quarter of a million copies, been translated into eleven languages, nominated for two major literary awards, and has been the subject of an immensely popular TED talk. In the three years since the first edition was published, the book has transformed the debate about China worldwide and proved remarkably prescient. In this greatly expanded and fully updated paperback edition, with nearly three-hundred pages of new material backed up by the latest statistical data, Martin Jacques renews his assault on conventional thinking about China's ascendancy, showing how its impact will be as much political and cultural as economic, thereby transforming the world as we know it.
Publisher:

Penguin Books Ltd

ISBN:

9780140276046

Number of pages:

848

Weight: 575g
Dimensions:

198 x 129 x 35 mm

The Communist state, Capitalist free market nation
Can the peoples internal thirst for freedom of free speech and political activism and desire to be able to crtitcise the politicians and the state be recon...
READ MORE


Intriguing...
'When China Rules the World' is a monumental work, and will require a lot of investment in terms of consideration and concentration on the part of the read...
READ MORE