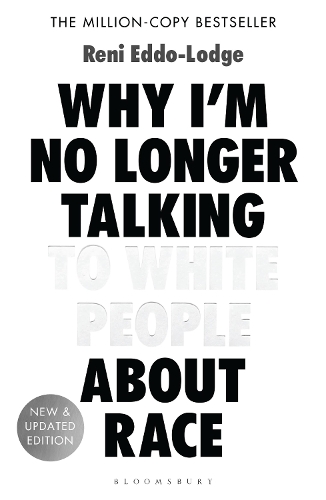 Why I'm No Longer Talking to White People About Race
Paperback 
Published on: 08/03/2018

Brilliant, engaging writing and essential reading
This is the kind of book that rearranges your mind and lets you see the world anew. It's not only essential reading for people, like me, who have never had...
READ MORE


EVERYBODY should read this
I wish I could donate a copy to every single person in the UK. Eddo-Lodge manages to spell out exactly what racism is, how it works, and why it's still a p...
READ MORE


A must read
This book is perfect if you want to understand the history of our country. This is an easy read and very educational.

Synopsis
I'm no longer engaging with white people on the topic of race. Not all white people, just the vast majority who refuse to accept the legitimacy of structural racism and its symptoms... You can see their eyes shut down and harden. It's like treacle is poured into their ears, blocking up their ear canals. It's like they can no longer hear us. In 2014, award-winning journalist Reni Eddo-Lodge wrote about her frustration with the way that discussions of race and racism in Britain were being led by those who weren't affected by it. She posted a piece on her blog, entitled: 'Why I'm No Longer Talking to White People About Race'. Her words hit a nerve. The post went viral and comments flooded in from others desperate to speak up about their own experiences. Galvanised by this clear hunger for open discussion, she decided to dig into the source of these feelings. Exploring issues from eradicated black history to the political purpose of white dominance, whitewashed feminism to the inextricable link between class and race, Reni Eddo-Lodge offers a timely and essential new framework for how to see, acknowledge and counter racism. It is a searing, illuminating, absolutely necessary exploration of what it is to be a person of colour in Britain today.
Publisher:

Bloomsbury Publishing Plc

ISBN:

9781408870587

Number of pages:

304

Weight: 218g
Dimensions:

198 x 129 mm