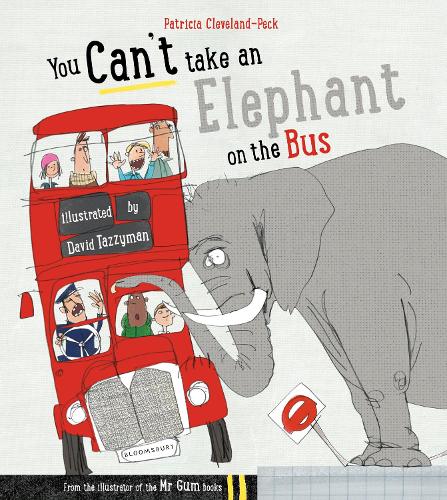 You Can't Take An Elephant On the Bus
Patricia Cleveland-Peck

(author)
,
David Tazzyman

(illustrator)
Paperback 
Published on: 09/04/2015
Synopsis
You can't take an elephant on the bus ...It would simply cause a terrible fuss! Elephants' bottoms are heavy and fat and would certainly squash the seats quite flat. This wonderful, riotous romp of a book, complete with hilarious rhymes and ingenious illustrations will have children (and adults) in splits. While it may seem common sense never to put a camel in a sailing boat, or that it would be a bad idea to put a tiger on a train, and simply preposterous to put a whale on a bicycle...that is exactly what happens in this hilarious book. Cover to cover, this amusing picture book is filled with animals causing mayhem as they attempt to travel in the most unsuitable vehicles. "Delightfully brought to life with David Tazzyman's quirky illustrations and a jaunty rhyming text. You will laugh out loud as tigers ride on trains, whales ride on bikes and giraffes go on aeroplanes." - Publishers Association. Patrick Clevland-Peck is a children's author whose previous works include, The Story of Tutenkhamun and The Queen's Spaghetti. David Tazzyman is the illustrator of the bestselling Mr Gum books
Publisher:

Bloomsbury Publishing PLC

ISBN:

9781408849828

Number of pages:

32

Weight: 190g
Dimensions:

274 x 245 mm

You can't take a n elephant on to a bus
This was fun to read to my three year old grandson. As well as the rhymes he enjoyed the simple, quirky illustrations. (Does the picture of the walrus in t...
READ MORE


Great illustrations.
My son loves the quirky illustrations and laughs out loud at the story. A definite bedtime favourite.


Incredible artwork and ridiculously funny rhymes
I heard part of it read on social media and spotted the gorgeous artwork. Have now bought two and both were really well received!!!