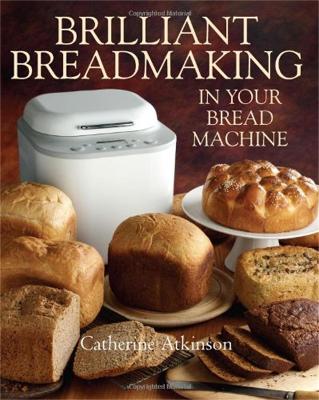 Brilliant Breadmaking in Your Bread Machine
Catherine Atkinson

(author)
Paperback 
Published on: 21/11/2012
Synopsis
There's nothing quite like the flavour and aroma of freshly baked bread. Your bread machine gives the pleasure of both with the least effort on your part. This book is for those who are new to bread making and those who want to expand their repertoire of recipes. It takes you through the basic techniques and provides foolproof advice on how to make the perfect loaf. From simple, straightforward loaves, which cost a fraction of the shop-bought equivalent, to more elaborately flavoured and handshaped creations, you'll discover over a hundred delicious recipes that make the most of your bread machine's potential. If you are concerned about what goes into the food you eat, you can now decide the ingredients of your daily bread yourself, and make bread that you will love. There are chapters on breads for those on special or restricted diets, such as gluten-free, and recipes using spelt and rye flours. All recipes are suitable for all makes of bread machine, and most recipes include ingredients for medium or large loaves or a small loaf using a compact bread machine.
Publisher:

Little, Brown Book Group

ISBN:

9781905862955

Number of pages:

160

Weight: 310g
Dimensions:

210 x 168 x 12 mm

Smaller than I thought
Brilliant bread making was much smaller than it seemed on the website. There are no lovely colour pictures of the finished loaves. The instructions are cle...
READ MORE


Bread making recipes
Lovely little book, and so easy to order and my sister collect from you thankyou


Small with few illustrations
I was a little disappointed with Brilliant breadmaking because there were no colour illustrations of the different breads. Also the book was much smaller t...
READ MORE


Brilliant!
It may be a smallish book (21 x 17cm) and have very few photographs ( a loaf from a bread machine looks like a loaf the shape of a bread machine tin of cou...
READ MORE