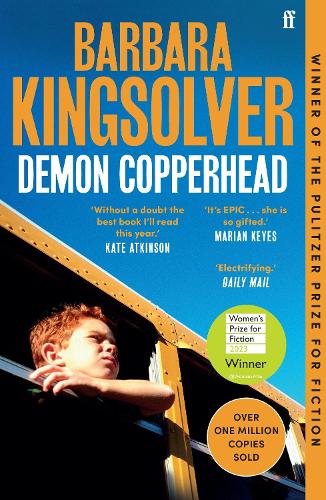 Demon Copperhead
Barbara Kingsolver

(author)
Paperback 
Published on: 04/05/2023

A deserving winner
I certainly went through an emotional ringer reading this novel. Although it pales in comparison to what Demon has to endure. From the moment of his birth ...
READ MORE


A deft reworking of a classic for the modern day
A deft reworking of a classic for the modern day and a worthy winner of the Women's prize for fiction. Demon has every soul crushing disadvantage in life b...
READ MORE


Worth every prize it has won
I really was not sure how to review this book,its a very sad story about Damon(Demon)who was 'First,I got myself born' to a father who had died and a mothe...
READ MORE


A very worthy winner of both Prizes
Broke my heart in so many places, I laughed in so many places, this is a book I will never forget. The lot of children in foster care is devastating.

Synopsis
'First I got myself born.' And so begins the tale of Demon Copperhead: a boy born to a teenaged single mother in a single-wide trailer, with no assets beyond his dead father's good looks and copper-colored hair, bucket-loads of charm and a talent or two the world is yet to discover. We befriend Demon on this, his journey through the modern perils of foster care, child labor, derelict schools, athletic success, addiction, the dizzying highs of true love, and the crushing losses that can accompany it. It's impossible not to fall hard for this hero who has just made your acquaintance, as you hurtle through these pages wishing you could reach into the pages save him from hardships or steer him to the rays of light that shine through even his darkest days. Inspired by the unflinching truth-telling of David Copperfield, Kingsolver enlists Dickens' anger and compassion, and above all, his faith in the transformative powers of a good story. Demon is the voice of new generation of lost boys, and all those born into beautiful, cursed places they can't imagine leaving behind. This young man is about to steal all our hearts.
Publisher:

Faber & Faber

ISBN:

9780571376483

Number of pages:

560

Weight: 458g
Dimensions:

198 x 129 x 33 mm