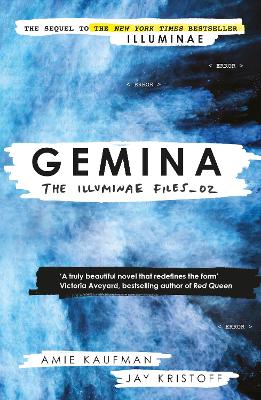 Gemina: The Illuminae Files: Book 2
Jay Kristoff

(author)
,
Amie Kaufman

(author)
Paperback 
Published on: 20/10/2016
Synopsis
'Wholly unique and utterly captivating.' Marie Lu Hanna is the station captain's pampered daughter; Nik the reluctant member of a notorious crime family. But while the pair are struggling with the realities of life aboard the galaxy's most boring space station, little do they know that Kady Grant and the Hypatia are headed right toward Heimdall, carrying news of the Kerenza invasion. When an elite BeiTech strike team invades the station, the two are thrown together to defend their home. But alien predators are picking off the station residents one by one, and a malfunction in the station's wormhole means the space-time continuum might be ripped apart before dinner. Soon Hanna and Nik aren't just fighting for their own survival; the fate of everyone on the Hypatia—and possibly the known universe—is in their hands. But relax. They've totally got this. They hope. Picking up about five minutes after Illuminae ends, Gemina is an electrifying sequel.
Publisher:

Oneworld Publications

ISBN:

9781780749815

Dimensions:

198 x 129 x 41 mm

Just as good as Illuminae!
I loved Illuminae. I didn't think I would but after winning it in a giveaway that I thought I would enter for the hell of it combined with the amount of lo...
READ MORE


Aliens meets Interstellar
I didn't enjoy this as much as the first one, possibly because 'Illuminae' blew me away with its formatting. There also seemed to be a lot of surveillance ...
READ MORE


Still going strong!
Really enjoyed but didn't get that same buzz I got whilst reading Illuminae, don't get me wrong I still ploughed through roughly 500 pages in an evening to...
READ MORE


Wow! Could not put this down! Even better than the first!


Amazing series
This series is one of the best book series I've ever read. It has everything: mystery, thriller, science fiction, fantasy, romance. At the same time, it al...
READ MORE