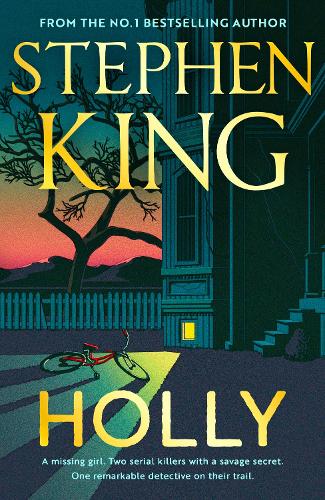 Holly
Hardback 
Published on: 05/09/2023
Synopsis
Holly Gibney, one of Stephen King's most compelling and ingeniously resourceful characters, returns in this thrilling novel to solve the gruesome truth behind multiple disappearances in a Midwestern town. Stephen King's Holly marks the triumphant return of beloved King character Holly Gibney. Readers have witnessed Holly's gradual transformation from a shy (but also brave and ethical) recluse in Mr Mercedes to Bill Hodges's partner in Finders Keepers to a full-fledged, smart, and occasionally tough private detective in The Outsider. In King's new novel, Holly is on her own, and up against a pair of unimaginably depraved and brilliantly disguised adversaries. When Penny Dahl calls the Finders Keepers detective agency hoping for help locating her missing daughter, Holly is reluctant to accept the case. Her partner, Pete, has Covid. Her (very complicated) mother has just died. And Holly is meant to be on leave. But something in Penny Dahl's desperate voice makes it impossible for Holly to turn her down. Mere blocks from where Bonnie Dahl disappeared live Professors Rodney and Emily Harris. They are the picture of bourgeois respectability: married octogenarians, devoted to each other, and semi-retired lifelong academics. But they are harbouring an unholy secret in the basement of their well-kept, book-lined home, one that may be related to Bonnie's disappearance. And it will prove nearly impossible to discover what they are up to: they are savvy, they are patient, and they are ruthless. Holly must summon all her formidable talents to outthink and outmanoeuvre the shockingly twisted professors in this chilling new masterwork from Stephen King. 'I could never let Holly Gibney go. She was supposed to be a walk-on character in Mr Mercedes and she just kind of stole the book and stole my heart. Holly is all her.' - Stephen King 
Publisher:

Hodder & Stoughton

ISBN:

9781399712910

Number of pages:

448

Weight: 690g
Dimensions:

154 x 234 x 36 mm

Without doubt, this is definitely the Must Read of the year!
As always, King has presented us with yet another masterpiece that no matter how long the book, you burn through it because you don't want to put it down! ...
READ MORE


Great book
Another in the Mr Mercedes books all of which are brilliant books, love all his books but do prefer these.


Holly
I am a big King fan have been for near forty years so my review might always be a tad bias I read this follow on from the Mercedes books,in two days it wa...
READ MORE


The books continue
Holly is another follow on from the Mr Mercedes book ,this is king coming away from horror to thriller,does it yet again really well,to me it's one of his ...
READ MORE


Dark, Twisted and Captivating
I loved the Mr Mercedes Trilogy, so I was happy to reunite with these characters. It is a great story and despite their crimes, the love shared between the...
READ MORE