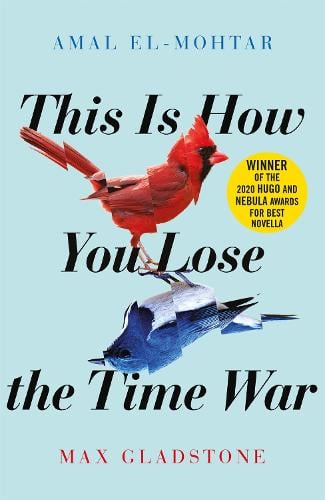 This is How You Lose the Time War
Amal El-Mohtar

(author)
,
Max Gladstone

(author)
Paperback 
Published on: 18/07/2019
Synopsis
Winner of the 2020 Hugo Award for Best Novella Co-written by two award-winning writers, This Is How You Lose the Time War is an epic love story spanning time and space. Among the ashes of a dying world, an agent of the Commandant finds a letter. It reads: Burn before reading. Thus begins an unlikely correspondence between two rival agents hellbent on securing the best possible future for their warring factions. Now, what began as a taunt, a battlefield boast, grows into something more. Something epic. Something romantic. Something that could change the past and the future. Except the discovery of their bond would mean death for each of them. There's still a war going on, after all. And someone has to win that war. That's how war works. Right?
Publisher:

Quercus Publishing

ISBN:

9781529405231

Number of pages:

208

Weight: 160g
Dimensions:

196 x 124 x 20 mm

The Perfect Recipe
This novella comes in the form of letters written from two opposing forces, that run through time and space. Each has an agency behind them, each is out in...
READ MORE


Excellent epistolary espionage romance
I've been looking forward to this book since I heard Amal El-Mohtar and Max Gladstone, each among the best speculative fiction writers working today, were ...
READ MORE


Beautiful and enjoyable
I recently got back into reading and this book was the answer to why I enjoyed reading so much. Full of an equal balance of romance, sci-fi and in my opini...
READ MORE


Intriguing snippets form sweeping story
This is How You Lose the Time War is poetry disguised as science fiction, a lyrical masterclass in how a story can successfully take a sweeping span of tim...
READ MORE


Amazing!
I took my time with this one and ended up devouring every chapter, loving every little bit. amazing, odd and it gripped me from start to finish.


A romantic novella with the impact of a sci-fi epic
It is so unusual for me to give a romance story five stars, and while This Is How You Lose the Time War is also a time-travel sci-fi novella it is definite...
READ MORE


Hauntingly true and beautiful
I'm grateful to Jo Fletcher Books for an advance e-copy of This is How You Lose the Time War via NetGalley. 'All good stories travel from the outside in'....
READ MORE


A beautiful love story through time and space
By turns utterly heartbreaking and wonderously joyful, this novella does so much in such a short space. Telling the story of Red and Blue, two agents on op...
READ MORE


An amazingly written gut-wrenching love story
I cried several times throughout this book, from joy and sadness, But enjoyed every second of it. It's not an especially long read but it is something that...
READ MORE


My favourite book
This is my favourite book of 2022 and I have reread it many time now. The intrigue and threats sparked an interest along with the letters to each other. I ...
READ MORE


Beyond Beautiful
That rare book which is actively better on every reread. The language is incredibly complex, perfectly balanced between romantic and incomprehensible. The ...
READ MORE


Purity
There are no true ways to describe this book for it must be experienced to understand. This is the book that shows everyone that falling in love is to trul...
READ MORE


Very good read
A brilliant novella in interesting epistolary form . Recommended.


Epic yet intimate
Please go into this blind if you can, it has time travel, mythology, history, battles, strange planets all spinning through a forbidden love story. It is e...
READ MORE