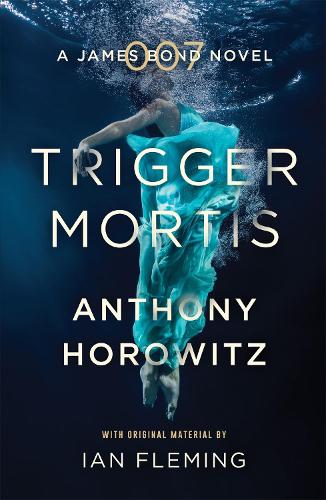 Trigger Mortis: A James Bond Novel
Anthony Horowitz

(author)
Paperback 
Published on: 19/05/2016
Synopsis
It's 1957 and James Bond (agent 007) has only just survived his showdown with Auric Goldfinger at Fort Knox. By his side is Pussy Galore, who was with him at the end. Unknown to either of them, the USSR and the West are in a deadly struggle for technological superiority. And SMERSH is back. The Soviet counter-intelligence agency plans to sabotage a Grand Prix race at the most dangerous track in Europe. But it's Bond who finds himself in the driving seat and events take an unexpected turn when he observes a suspicious meeting between SMERSH's driver and a sinister Korean millionaire, Jai Seong Sin. Soon Bond is pitched into an entirely different race uncovering a plan that could bring the West to its knees. Welcoming back familiar faces, including M and Miss Moneypenny, international bestselling author Anthony Horowitz ticks all the boxes: speed, danger, strong women and fiendish villains, to reinvent the golden age of Bond in this brilliantly gripping adventure. Trigger Mortis is also the first James Bond novel to feature previously unseen Ian Fleming material. This is James Bond as Fleming imagined him. 'He delivers the tersely precise prose that makes Bond so compelling but more than that, he supplies touches of Fleming's cruel poetry and shares his pleasure in detail' - The Guardian 'Trigger Mortis is a masterly feat of literary ventriloquism.' - The Times
Publisher:

Orion Publishing Co

ISBN:

9781409159148

Number of pages:

320

Weight: 276g
Dimensions:

198 x 145 x 25 mm

Brilliant fun
Bond returns with a touch of fleming. I enjoyed this one. I stopped reading Horowitz a while back but this is bond so I was happy to read it. It's a lot of...
READ MORE


Trigger Mortis
Loved it, Bond takes a lot of beating in the written form.


Enjoyable story with good historic content
Second place for me in the Horowitz-Bond canon but a really enjoyable story with little historic details which help shape the picture (the Korean War in pa...
READ MORE