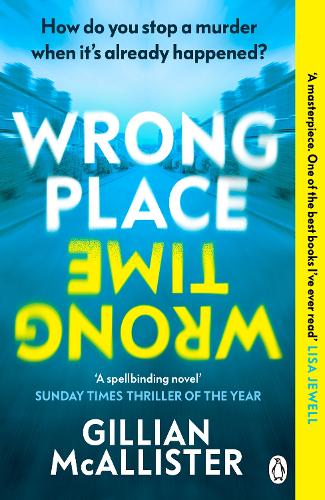 Wrong Place Wrong Time
Gillian McAllister

(author)
Paperback 
Published on: 02/03/2023
Synopsis
Can you stop a murder when it's already happened? It's every parent's nightmare. Your happy, funny, innocent son commits a terrible crime: murdering a complete stranger. You don't know who. You don't know why. You only know your teenage boy is in custody and his future lost. That night you fall asleep in despair. Until you wake, and it is yesterday. Every morning you wake up a day earlier, another day before the murder. Another chance to stop it. Somewhere in the past lie the answers, and you don't have a choice but to find them,
Publisher:

Penguin Books Ltd

ISBN:

9781405949842

Number of pages:

416

Weight: 300g
Dimensions:

196 x 126 x 28 mm

Loved this book
I loved the concept of this book and the plot twists it had! Definitely a book to add to you TBR


Brilliant!
I started this book yesterday, and finished it today - I could not put it down. Any mother knows that feeling of not being able to go to sleep until their ...
READ MORE


A Captivating Thriller !
You will read it in no time as you won't be able to put it down until you've read it all.


5 STARS
An unconvential chronology and multi POV story that I am absolutely floored by because of how well the characters were built and fleshed out, the way the a...
READ MORE


Stick with it!
An amazing concept for a novel. Time travelling story that keeps you reading, if only to find out the ending, which to be honest is the weakest aspect of t...
READ MORE