Secure Shopping
Foyles will never ask for your card's PIN number, your account password or your bank details by email. If you are contacted or receive an unsolicited email that asks you for your password or personal banking information, disregard the request and report the communication to our Customer Support Team for investigation.
Suspicious Emails
If you receive an email that claims to be from Foyles yet seems suspicious, please do not click on any links or open any attachments in the message. Delete the email, or please contact us if you are unsure.
You can often recognise a suspicious email by:
-the sender's email address not being a Foyles.co.uk address;
-if it is asking you to provide your account or payment details;
-if you haven't recently shopped with Foyles.co.uk;
-if the links in the email don't lead to Foyles.co.uk.
How Secure is Foyles.co.uk?
We use the strongest and most secure, commercially available version of Secure Socket Layers (SSL) encryption. This is the industry standard for e-commerce and the best solution currently available for secure, online commerce transactions.
SSL encrypts all of your personal information, including your credit card number, name and address. This ensures that your details cannot be read as they travel over the Internet. You can find out all about SSL certificates here: www.symantec.com/page.jsp?id=ssl-information-center
What is MasterCard SecureCode/Verified by Visa?
MasterCard SecureCode and Verified by Visa are both schemes set up by card providers to add an extra layer of security to your online shopping.
The cardholder has a personalised password or private code registered with their card that is entered during the checkout process, usually as a final step.
To participate in the scheme you will need to register your details with your card issuer, who will be able to provide you with specific details.
Find out more about Mastercard Securecode: www.mastercard.us/securecode.html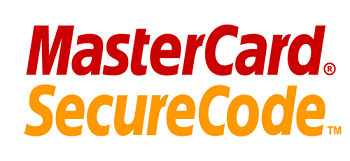 Find out more about Verified by Visa: www.visaeurope.com/en/cardholders/verified_by_visa.aspx