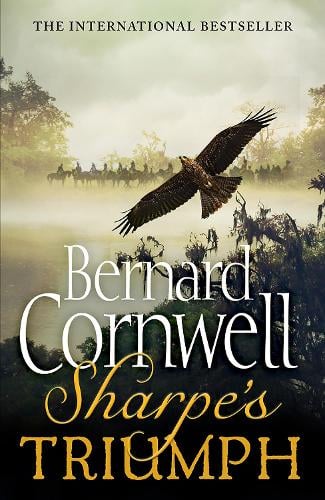 Sharpe's Triumph: The Battle of Assaye, September 1803
Bernard Cornwell

(author)
Paperback 
Published on: 15/09/2011
Synopsis
*SHARPE'S COMMAND, the brand new novel in the global bestselling series, is available to pre-order now* Sergeant Richard Sharpe witnesses a murderous act of treachery and, with Sir Arthur Wellesley, faces the Mahratta Horde. The paths of treachery all lead to the small village of Assaye. Outnumbered and outgunned, Wellesley, with a diminished British army, plunges his men into the white heat of battle. A battle that will make his reputation, and perhaps Sharpe's too. Soldier, hero, rogue – Sharpe is the man you always want on your side. Born in poverty, he joined the army to escape jail and climbed the ranks by sheer brutal courage. He knows no other family than the regiment of the 95th Rifles whose green jacket he proudly wears.
Publisher:

HarperCollins Publishers

ISBN:

9780007425808

Number of pages:

400

Weight: 280g
Dimensions:

198 x 129 x 25 mm

Fast Paced and Action Packed! An excellent read!
The 2nd book I've read in the Sharpe series, full of action like the first, and a really enjoyable read! There never seems to be a dull moment in Sharpe's ...
READ MORE


Sharpe's Triumph
Good as all his Sharpe books but not the best by far - Try Sharpe's Eagle for real good