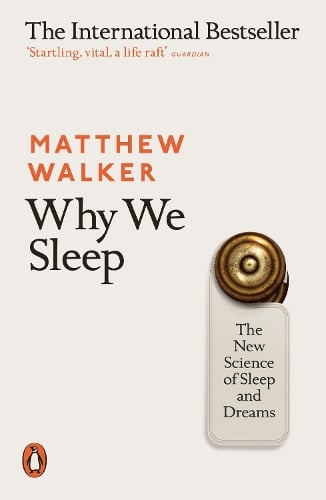 Why We Sleep: The New Science of Sleep and Dreams
Paperback 
Published on: 04/01/2018

It actually keeps you up at night! In a good way...
It's fascinating, in parts it's terriffying if I'm honest but I've learned so much... putting some of it into practice is quite daunting but I'm sure I'm b...
READ MORE


Crucial reading for everyone!
After finishing this book I realised just how little I had known about sleep and just how little thought I actually gave it considering how utterly vital i...
READ MORE

Synopsis
Sleep is one of the most important aspects of our life, health and longevity and yet it is increasingly neglected in twenty-first-century society, with devastating consequences: every major disease in the developed world - Alzheimer's, cancer, obesity, diabetes - has very strong causal links to deficient sleep. Until very recently, science had no answer to the question of why we sleep, or what good it served, or why its absence is so damaging to our health. Compared to the other basic drives in life - eating, drinking, and reproducing - the purpose of sleep remained elusive. Now, in this book, the first of its kind written by a scientific expert, Professor Matthew Walker explores twenty years of cutting-edge research to solve the mystery of why sleep matters. Looking at creatures from across the animal kingdom as well as major human studies, Why We Sleep delves in to everything from what really happens during REM sleep to how caffeine and alcohol affect sleep and why our sleep patterns change across a lifetime, transforming our appreciation of the extraordinary phenomenon that safeguards our existence.
Publisher:

Penguin Books Ltd

ISBN:

9780141983769

Number of pages:

368

Weight: 269g
Dimensions:

198 x 129 x 21 mm

Fantastically written, a guide for your conscience
Best book I read in years. Extremely well written with a high level of clear explanation. The author reaches out to the reader very well and at such a good...
READ MORE


Alex
An excellent read. Message is easy to take on board and made me change my ways. Feeling better.


Fantastic and enlightening
This book is amazing , covering the importance of sleep and its functions. How memories are made, how the salience network of the brain priorities these me...
READ MORE


Essential reading
Essential reading for the modern age, a time filled with the sleep-starved and over-worked, who often spend their down-time glued to screens. Deeply fascin...
READ MORE


Sleep like you've never considered it
This was a total eye opener! Great topic and so needed in times where "fast paced" had become a religion. One thing that made me realise how unfair the cur...
READ MORE


A book we all need to read
Everything you ever want to know about sleep is packed into this informative book by Professor Matthew Walker who has specialised this subject with over tw...
READ MORE


A (not too early) wakeup call
This important book is a must read for public administrators and in particular health and education professionals as well as employers and entrepreneurs. ...
READ MORE


That Explains a lot
I found this very interesting with many instances of me saying 'That explains ….' to myself. One thing that sticks in my mind was tired driving is more da...
READ MORE


A very important book.
Just buy it. This should be forced down the throats of politicians and businesses and should be taught in schools worldwide.


Brilliant
The problem I had with this book is that it is so good, I couldn't put it down. Not good for my sleep quota ...


Enjoyed it
Really interesting. Makes you pay attention and appreciate sleep, as a source of health.


Great read
Very informative.


Must Read
I read this book for personal and professional ideas. I support people with very complex challenges and this book gave me so many ideas I wrote three full ...
READ MORE