If you're a student, you can get 5% off your purchases instore and online by joining Foyalty Student. Once you've spent £10, you get a stamp; once you've collected ten stamps, you get £10 to spend in future purchases.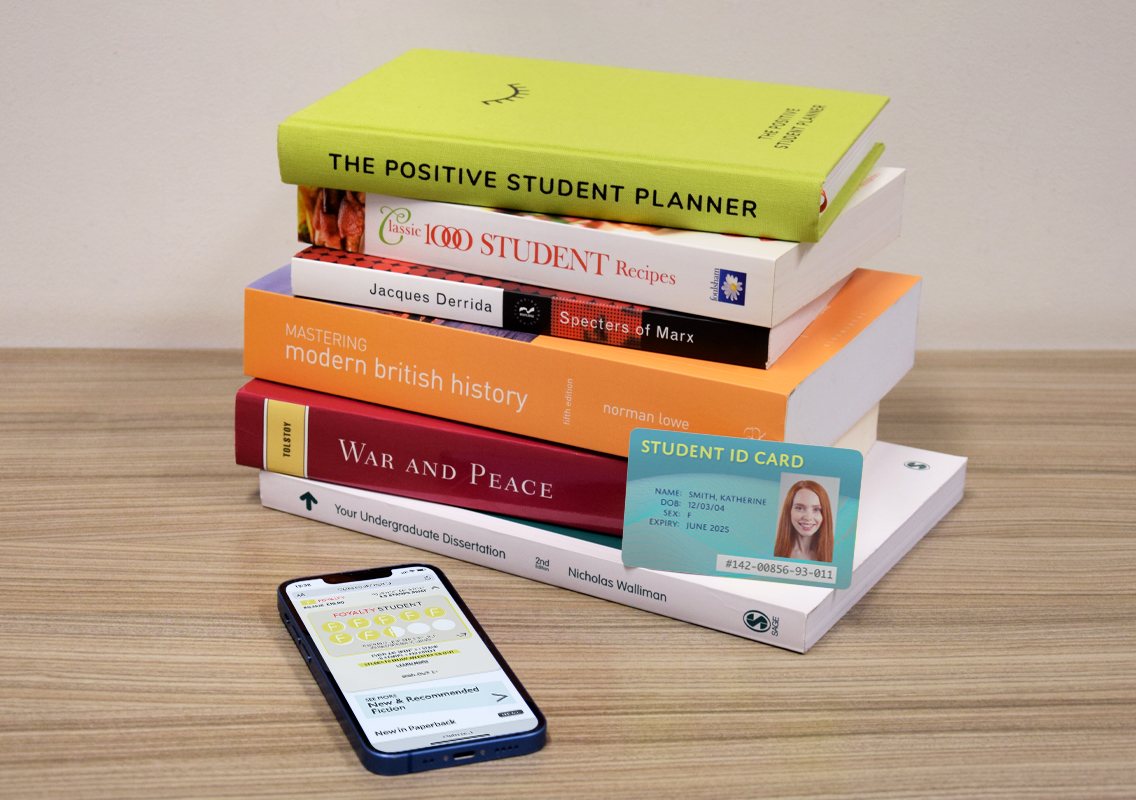 What's Foyalty Student?
It's our new loyalty programme designed especially for students. You get 5% off most products instore and online, plus the chance to earn rewards: every £10 spent gives you a stamp, and once you've collected 10 stamps you earn £10 to spend on future purchases (we call this your Balance). You can then spend your Balance however you like: all in one go or in several purchases.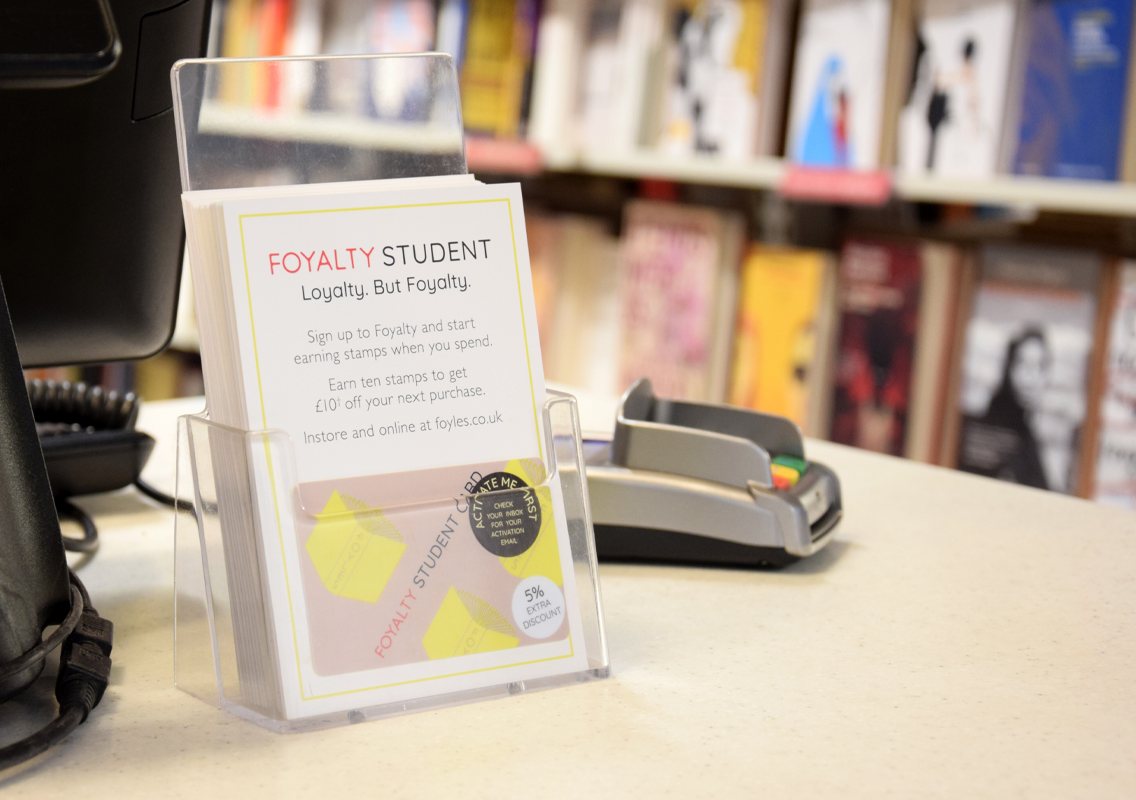 How to sign up
Register for Foyalty Student instore, making sure to present a valid student ID. To register online, just create an account on foyles.co.uk using a ac.uk email address.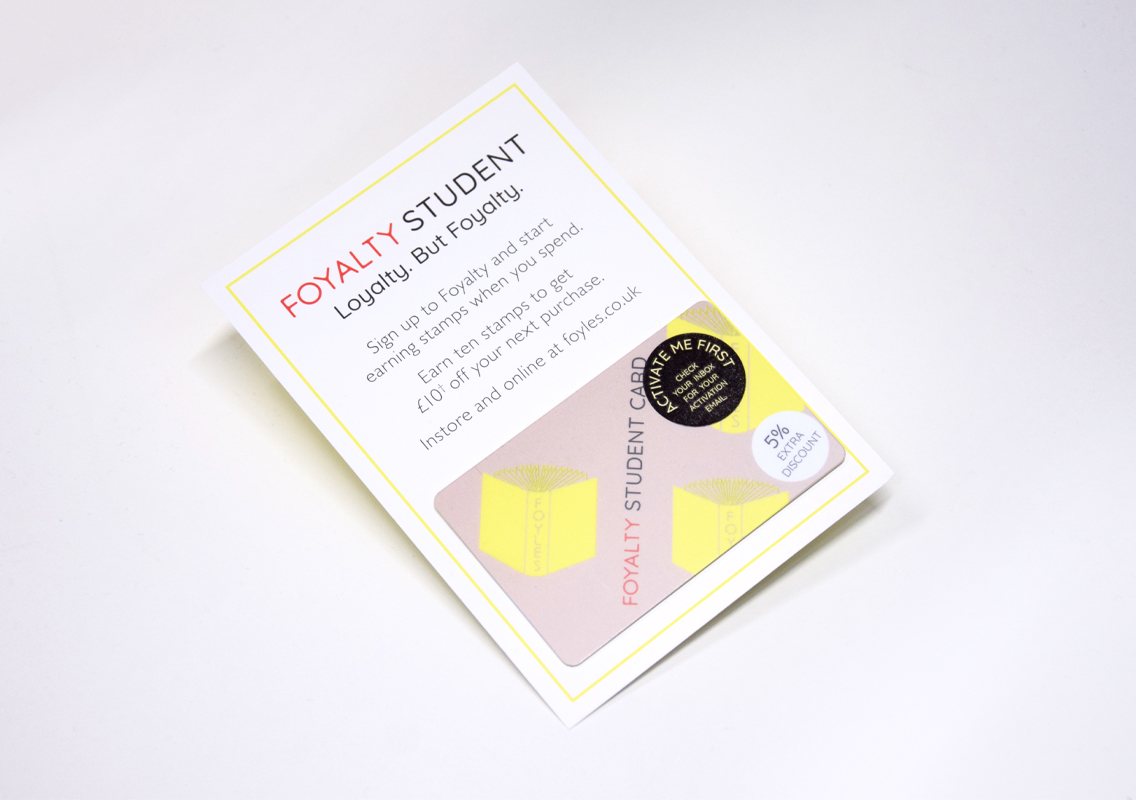 A brand new student scheme
Foyalty Student replaces our old student scheme with a new and improved rate that gives you a 5% discount instore and online, plus all the perks of the revamped Foyalty.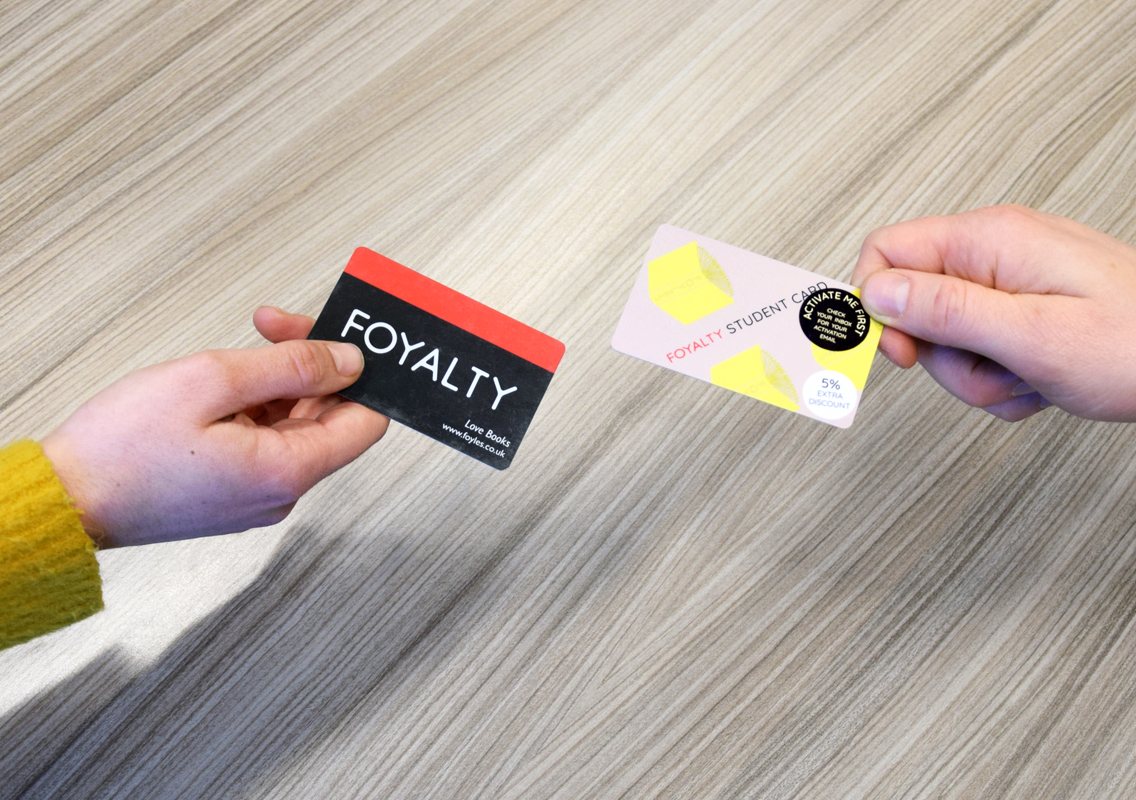 Transferring from the old Foyalty
If you have an old Foyalty card, don't worry: your points are safe in your account. Just take your card to one of our shops and present your valid student ID, and a bookseller will transfer your points to a Foyalty Student card.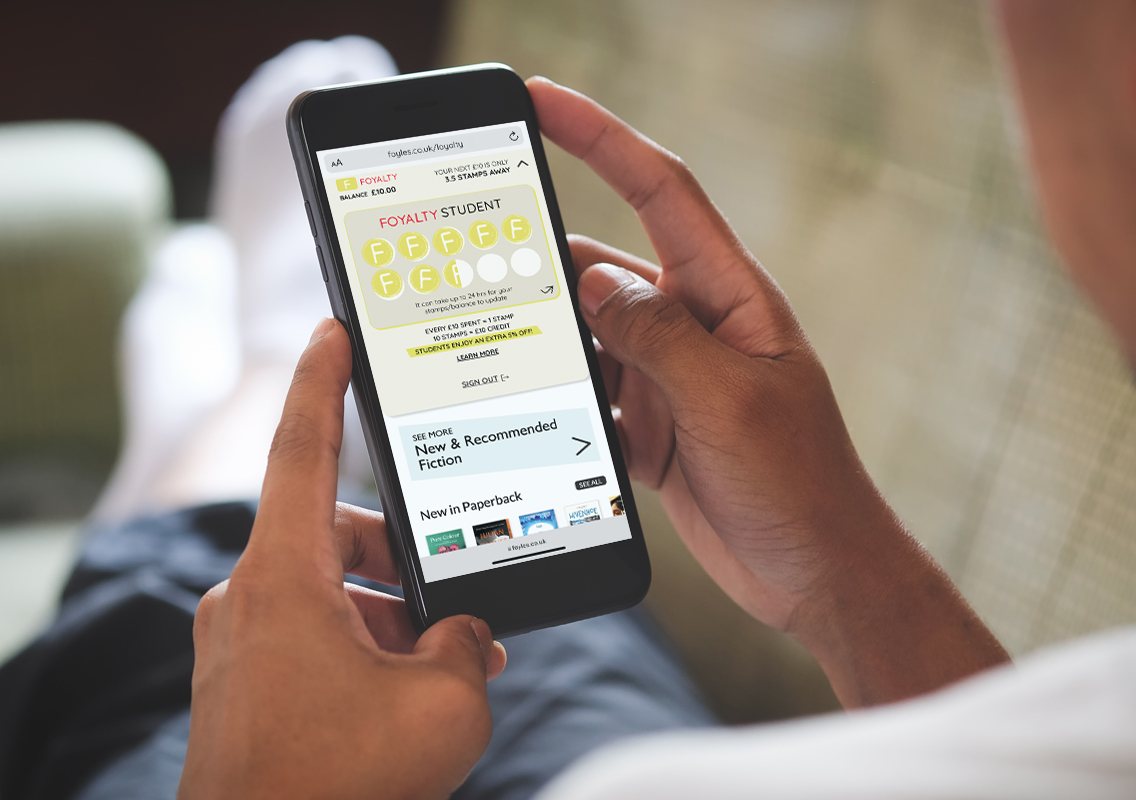 Go digital
You don't need a physical Foyalty card if you don't want one, and can use your account entirely digitally. Just make sure you log in to Foyles.co.uk and show your Foyalty Student barcode when shopping instore, and use your Foyalty Student account when shopping online. And if you decide you do want a physical card, you can get one from any of our shops.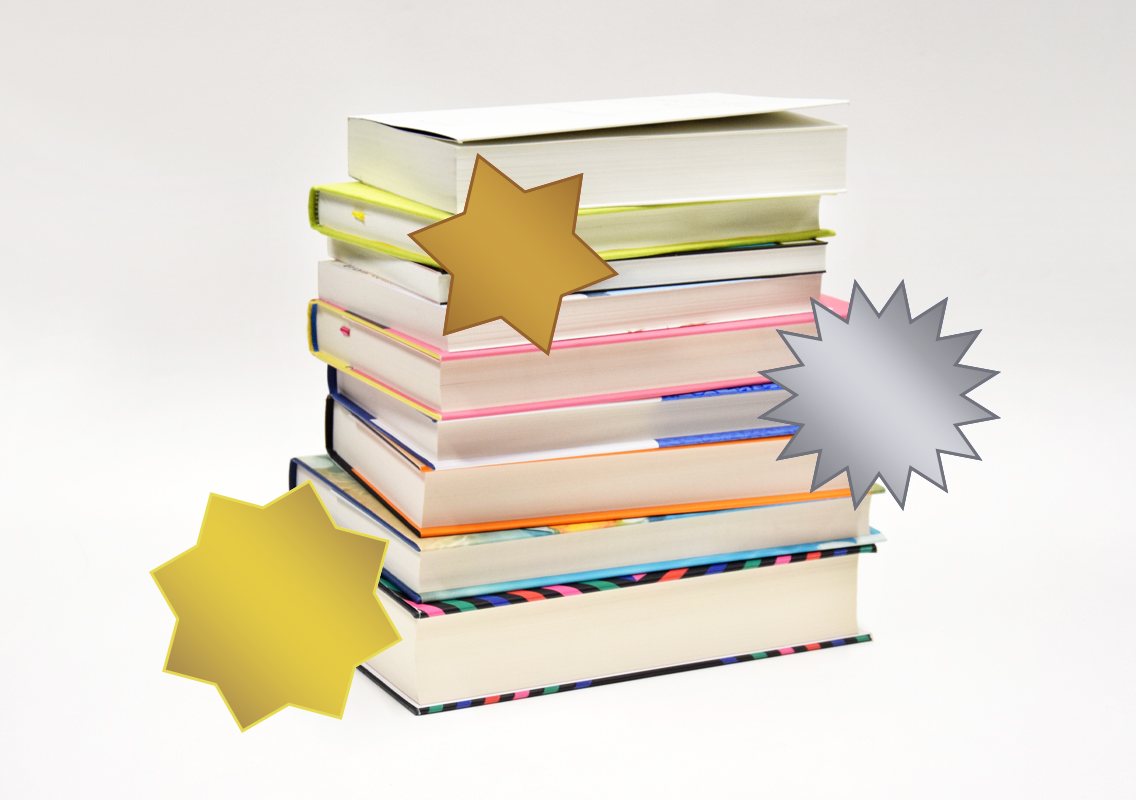 Exclusive offers
As Foyalty members, Foyalty Student members get first dibs on our latest offers, plus double & triple points events and flash sales. Make sure you sign up to our newsletter so you don't miss out!
---
FAQs
What's the difference between Foyalty and Foyalty Student?
Foyalty Student offers exactly the same benefits as Foyalty, plus a 5% discount instore and online.
Do you have a student discount separate from Foyalty?
Foyalty Student is our only rewards scheme for students. Members receive all the standard Foyalty rewards, together with an instant 5% discount on the majority of purchases.
On what products can I get 5% off?
You can get 5% off all products purchased in Foyles shops or on Foyles.co.uk, with the exception of: purchases from Foyles Account Services; gift vouchers; electronic gift cards; National Book Tokens; theatre tokens; postage stamps; postage costs, event tickets (and books included as part of the event ticket price); and Foyles concessions. Other products may be added to this list of exception from time to time, as notified.
I have an old Foyalty card. Can I upgrade to Foyalty Student online?
You will only be able to upgrade online if:
Your old Foyalty card is linked to your Foyalty online account
and
Your online account is registered under a ac.uk email address
Otherwise, you'll be able to upgrade by speaking to a bookseller instore, or by getting in touch with our Customer Services team via [email protected]. You'll need to supply your old Foyalty card number.
Click here to register or login to Foyalty Student.
For any queries about your Foyalty Student account, contact our Customer Services team on [email protected]